Customized Solutions
As an application development service INSION offers support for spectral analysis and chemometrics.

In the field of application development the INSION team has a background of more than 20 years of experience in business and provides profound expertise. Typically, a new product development for an OEM customer starts with an analysis phase including a conceptual preparation of the measurement task based on our technology, generating a basic product concept and continues towards preliminary product design. This study will be followed by product development phase delivering prototype units and a production set-up phase to achieve pilot serial status. Our milestone project set-up assures performance validation of technical and economic parameters and provides a sound basis for the regulatory approval of our customers' final products.
Our Business Model:
Our Business Model is Product Development Services plus Application Support. We already have abundant experience of many successful applications based on INSION`s sensor technology. INSION supports the analytical method development and according to it, we design (optical simulation model) and prototype the entire optical signal path ("spectral engine") of the customer's application. We can also develop the chemometric model, DOE, study plan, clinical validation support. Customer's tasks are conduction of clinical studies and regulatory affairs.

Our production is quality assured. ISO 9001 and ISO 13485 based production set up and SOP`s Testing and qualification (incl. Stress & ALT testing), Validation.

The whole project will be planned, operated and controlled with the Project Management Methods, in order to guarantee the target orientation, efficiency and success of the project. We offer a broad range of services through the entire life cycle of your product, which ensures rapid solution of problems and exploits our product advantages. INSION`s sensor technology is exclusive to the customer in his market.

Through INSION's "one team" approach, which stands for the close collaboration of our team with the development engineers and application specialists of our OEM customers, we are speeding up time-to-market and development efficiency.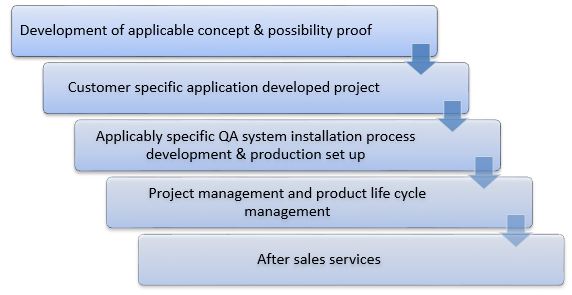 We offer
Professional products recommended

Optimal optical design program

More than 200 program-based technical support
Your benefits
Excellent quality products

Fast problem resolution

Long-term technical support